Star Formation in Ophiuchus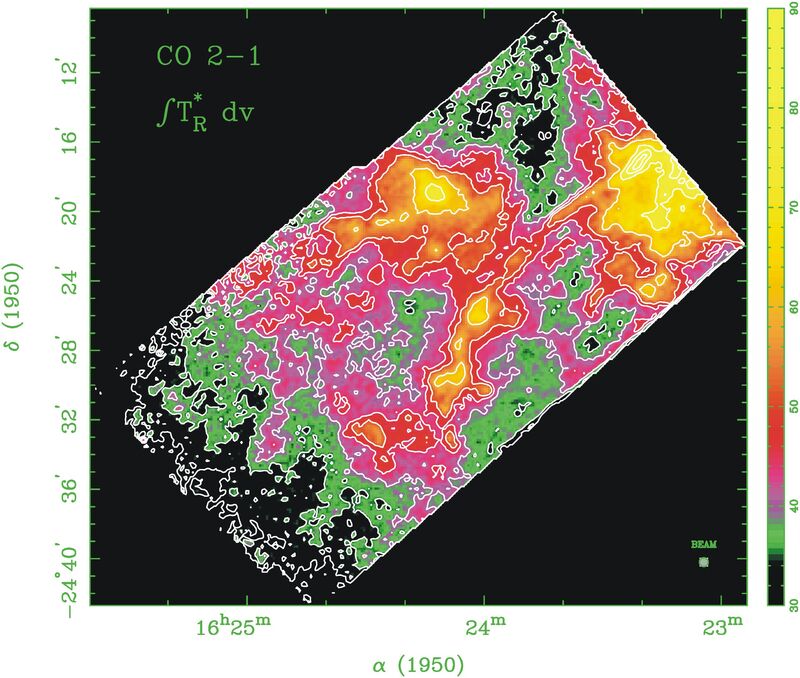 Description
Recent advances in our understanding of the physical processes which take place during protostellar evolution have lead to the suggestion of an evolutionary sequence. In this proposed evolutionary sequence, molecular outflow characteristics are expected to evolve with age. In order to better understand this evolutionary sequence, we have conducted a survey of the outflow characteristics toward several protostars in Rho Ophiuchus by imaging the CO 2-1 emission over a 35x17 square arcminute region. By comparing these data with the ISOCAM census of all of the embedded YSO's in the Rho Ophiuchus core (Bontemps et. al. 1999), the 1.3mm continuum emission imaged by Motte et.al.(1997), and the Bontemps et.al. (1996) survey of outflow properties, we have further defined the outflow evolution of the YSO's in the Ophiuchus star formation region.
Creator
Legacy Astronomical Images
Rights
NRAO/AUI/NSF does not hold full copyright for this image. Contact the archivist for details.
Type
Legacy Astronomical Image
Investigators
J. G. Mangum, P. Andre, S. Bontemps
Telescope
13 Meter Telescope
Observation Date
1998-02-22
Type of Observation
spectral line
Center of Image
RA 16:24:4.000, Dec: -24:24:30.000 (B1950)
Field of View
0.583333 x 0.283333 degrees
Notes
Contact the archivist for a high resolution tif of this image.
Series
Galactic Sources Series
Unit
Star Forming Regions Unit
Citation
Legacy Astronomical Images, "Star Formation in Ophiuchus,"
NRAO Archives
, accessed December 3, 2021,
https://www.nrao.edu/archives/items/show/33502
.