TX Cam - Masers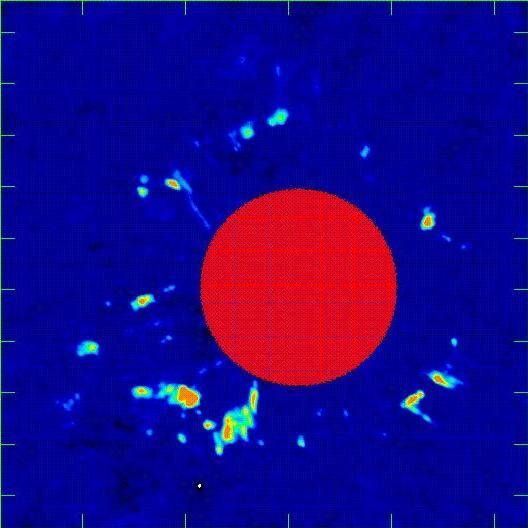 Description
VLBA image of the star TX Cam, showing regions ("spots") of maser emission from Silicon Monoxide (SiO) molecules forming a shell around the star. Approximate size of the star is indicated by red circle (artifically added to image). The maser spots are where the SiO molecules are amplifying radio emission at a frequency of 43 GHz. In separate images made at different times, these maser spots are seen to move.
Creator
Legacy Astronomical Images
Rights
NRAO/AUI/NSF does not hold full copyright for this image. Contact the archivist for details.
Type
Legacy Astronomical Image
Investigators
Athol Kemball, Philip Diamond
Telescope
Very Long Baseline Array (VLBA)
Observation Date
1994-12-01
Type of Observation
spectral line
Center of Image
RA 5:0:50.400, Dec: 56:10:53.000 (J2000)
Field of View
0.000014 x 0.000014 degrees
Link to journal article
Series
Galactic Sources Series
Citation
Legacy Astronomical Images, "TX Cam - Masers,"
NRAO Archives
, accessed December 3, 2021,
https://www.nrao.edu/archives/items/show/33505
.