Betelgeuse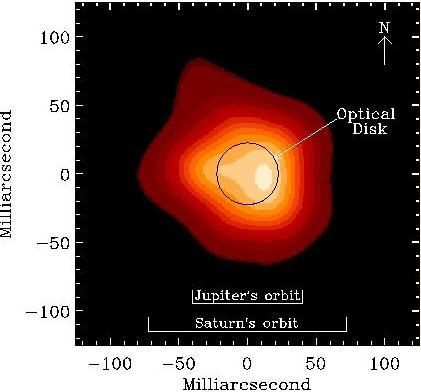 Creator
Legacy Astronomical Images
Rights
NRAO/AUI/NSF does not hold full copyright for this image. Contact the archivist for details.
Type
Legacy Astronomical Image
Photo Credit
J. Lim, C. Carilli, S.M. White, A.J. Beasley, R.G. Marson
Investigators
Jeremy Lim, Chris Carilli, Anthony Beasley, Ralph Marson, Stephen White
Telescope
Very Large Array (VLA)
Observation Date
1998-00-00
Type of Observation
continuum
Center of Image
RA 5:55:10.310, Dec: 7:24:25.400 (J2000)
Field of View
0.000050 x 0.000050 degrees
Link to journal article
Series
Galactic Sources Series
Citation
Legacy Astronomical Images, "Betelgeuse,"
NRAO Archives
, accessed December 3, 2021,
https://www.nrao.edu/archives/items/show/33507
.