Betelgeuse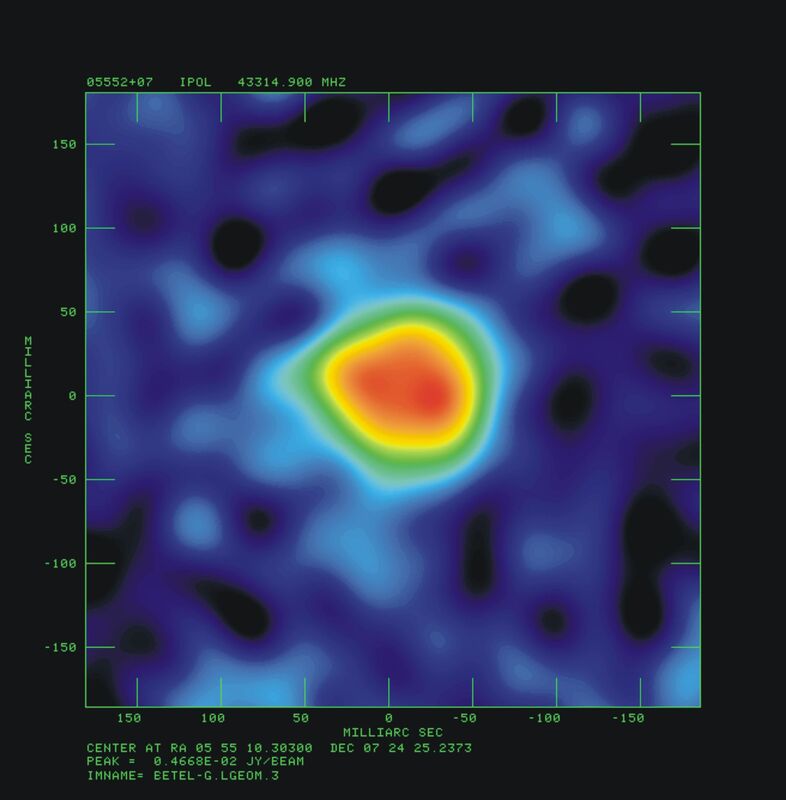 Description
Supergiant stars such as Betelgeuse have very extended atmospheres, the properties of which are poorly understood.
We observed Betelgeuse for 11 hours on 21 December 1996 with the Very Large Array (VLA) in its highest-resolution (A) configuration. At a wavelength of 7 mm, the angular resolution achieved (40 mas) is sufficient to have resolved Betelgeuse's atmostphere.
Creator
Legacy Astronomical Images
Rights
NRAO/AUI/NSF does not hold full copyright for this image. Contact the archivist for details.
Type
Legacy Astronomical Image
Investigators
Jeremy Lim, Chris L. Carilli, Stephen M. White, Anthony J. Beasley, Ralph G. Marson
Telescope
Very Large Array (VLA)
Observation Date
1996-12-21
Type of Observation
continuum
Center of Image
RA 5:55:10.310, Dec: 7:24:25.400 (J2000)
Field of View
0.000111 x 0.000111 degrees
Notes
Contact the archivist for a high resolution tif of this image.
Series
Galactic Sources Series
Citation
Legacy Astronomical Images, "Betelgeuse,"
NRAO Archives
, accessed December 3, 2021,
https://www.nrao.edu/archives/items/show/33508
.