Supernova Remnant W28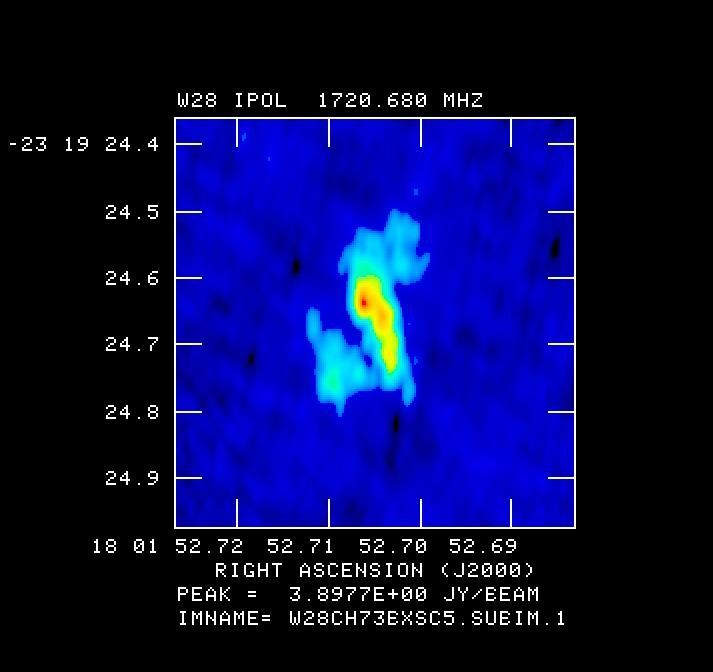 Description
How big is a maser? That's what Mark Claussen and his collaborators are hoping to discover with this study of the supernova remnant W28. This image is one pocket of maser activity; there are several more within the region of the exploded star. The point in question is whether or not the observed size is intrinsic to these masers, or has the image been distorted by scattering of the radio waves by interstellar dust and gas along the line of sight to the region ? Typical maser sizes in this region are in the range of 50-100 milliarcseconds. If the dimensions of the maser have been exaggerated by scattering, then other objects in the same direction should show similar characteristics because the radio waves pass through the same Galactic neighborhood. By the same line of reasoning, masers seen in areas with much less interstellar gas and dust would be smaller. They would be similar in size if minimal scattering is occurring here. Further research will be needed to determine which scenario is the case.
Creator
Legacy Astronomical Images
Rights
NRAO/AUI/NSF does not hold full copyright for this image. Contact the archivist for details.
Type
Legacy Astronomical Image
Photo Credit
M. J. Claussen, W. M. Goss, D. A. Frail, K. Desai
Investigators
M. J. Claussen, W. M. Goss, D. A. Frail, K. Desai
Telescope
Very Long Baseline Array (VLBA)
Observation Date
1997-00-00
Type of Observation
continuum
Center of Image
RA 18:0:60.000, Dec: -23:10:60.000 (J2000)
Field of View
0.000167 x 0.000167 degrees
Series
Galactic Sources Series
Unit
Supernova Remnants Unit
Citation
Legacy Astronomical Images, "Supernova Remnant W28,"
NRAO Archives
, accessed December 3, 2021,
https://www.nrao.edu/archives/items/show/33510
.