W50A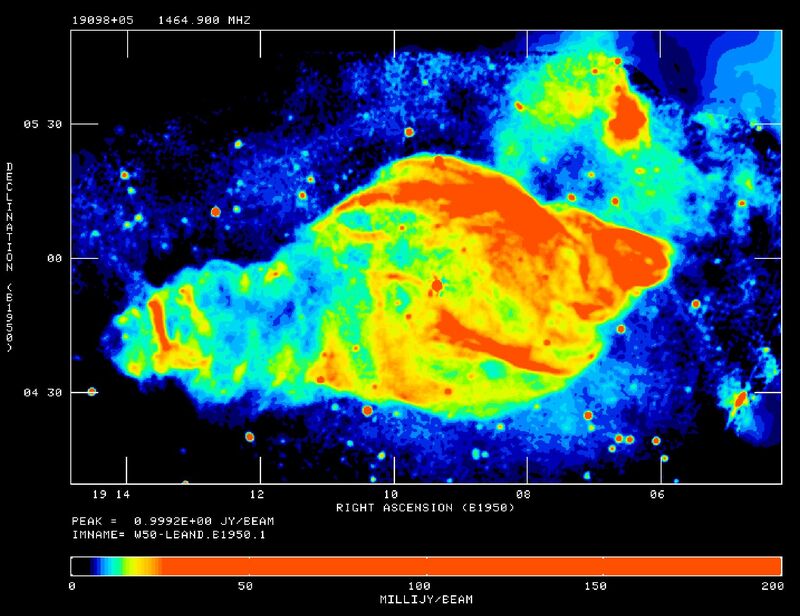 Description
This is 20cm total intensity map. The highly unusual compact object SS 433 appears to be located near the center of W 50, a large nonthermal galactic radio source postulated to be a SNR.
The map was made from a mosaic of 58 different pointings.
Creator
Legacy Astronomical Images
Rights
NRAO/AUI/NSF does not hold full copyright for this image. Contact the archivist for details.
Type
Legacy Astronomical Image
Investigators
Gloria Dubner, Mark Holdaway, Miller Goss, Felix Mirabel
Telescope
Very Large Array (VLA)
Observation Date
1996-00-00
Type of Observation
continuum
Center of Image
RA 19:11:49.000, Dec: 4:59:12.000 (J2000)
Field of View
3.000000 x 1.700000 degrees
Notes
Contact the archivist for a high resolution tif of this image.
Series
Galactic Sources Series
Unit
Supernova Remnants Unit
Citation
Legacy Astronomical Images, "W50A,"
NRAO Archives
, accessed December 3, 2021,
https://www.nrao.edu/archives/items/show/33513
.