The Crab Nebula (M1)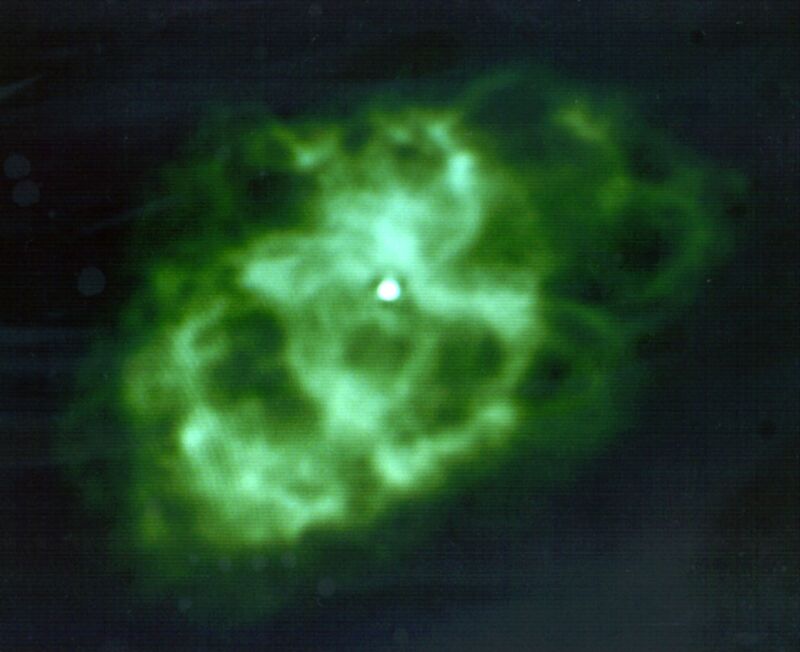 Description
The Crab Nebula is a remnant of the supernova observed by Chinese, Japanese, and possibly natives of the southwest of the U.S.A. in 1054 AD. This image of the Crab shows the 33 millisecond pulsar as a bright point source near the center.
VLA in A B D configuration using 27 antennas.
Creator
Legacy Astronomical Images
Rights
NRAO/AUI/NSF does not hold full copyright for this image. Contact the archivist for details.
Type
Legacy Astronomical Image
Investigators
T. Velusamy
Telescope
Very Large Array (VLA)
Observation Date
1990-00-00
Type of Observation
continuum
Center of Image
RA 5:34:31.970, Dec: 22:0:52.100 (J2000)
Field of View
0.333333 x 0.333333 degrees
Notes
Contact the archivist for a high resolution tif of this image.
Series
Galactic Sources Series
Unit
Supernova Remnants Unit
Citation
Legacy Astronomical Images, "The Crab Nebula (M1),"
NRAO Archives
, accessed December 3, 2021,
https://www.nrao.edu/archives/items/show/33514
.