Cassiopeia A (BW)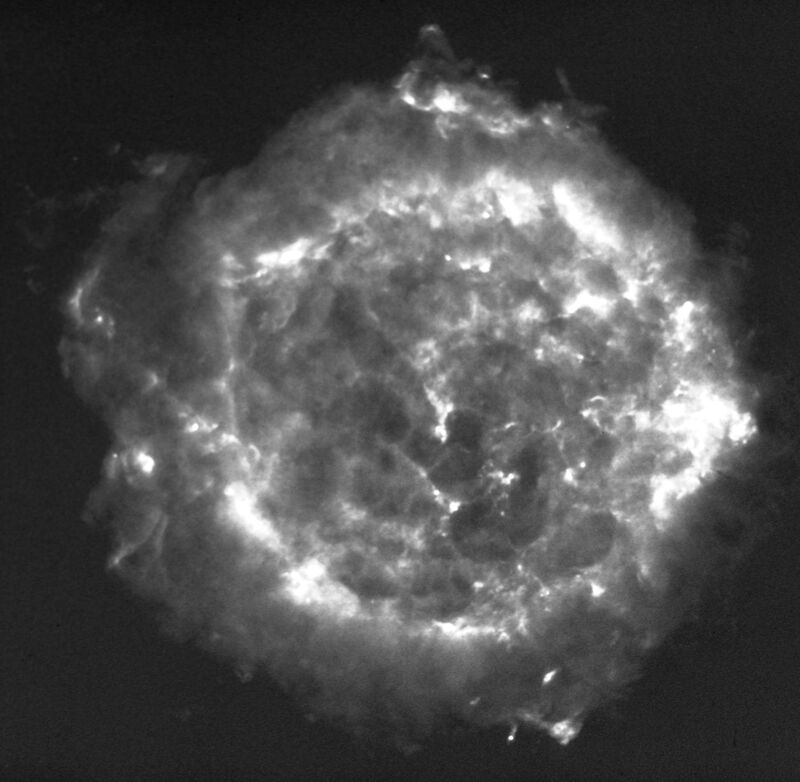 Description
Cassiopeia A (Cas A) is the remnant of the supernova event which was quite possibly witnessed by Flamsteed in AD 1680. At that time the outer layers of a massive star were ejected with high velocity, sweeping up a shell of the surrounding interstellar material. This shell has now decelerated sufficiently so that the more slowly expanding material from deeper within the star is breaking through the shell from inside. The passage of this ejecta through the shell gives rise to conical extensions which leave crater-like structures in their wake.
Bandwidth synthesis used to improve spatial frequency content Details: Fully processed radiograph of the total intensity of CasA, deconvolved from the 4096 x 4096 pixel "dirty" image and beam via a Maximum Entropy Method ('VM') algorithm in 20 minutes of CPU time on a Cray X-MP.
Creator
Legacy Astronomical Images
Rights
NRAO/AUI/NSF does not hold full copyright for this image. Contact the archivist for details.
Type
Legacy Astronomical Image
Investigators
P.E. Angerhofer, R. Braun, S.F. Gull, R.A. Perley, R.J. Tuffs
Telescope
Very Large Array (VLA)
Observation Date
1983-00-00
Type of Observation
continuum
Center of Image
RA 23:21:13.000, Dec: 58:32:35.000 (B1950)
Field of View
0.100000 x 0.100000 degrees
Notes
Contact the archivist for a high resolution tif of this image.
Series
Galactic Sources Series
Unit
Supernova Remnants Unit
Citation
Legacy Astronomical Images, "Cassiopeia A (BW),"
NRAO Archives
, accessed December 3, 2021,
https://www.nrao.edu/archives/items/show/33515
.