Radio Image of the Crab Nebula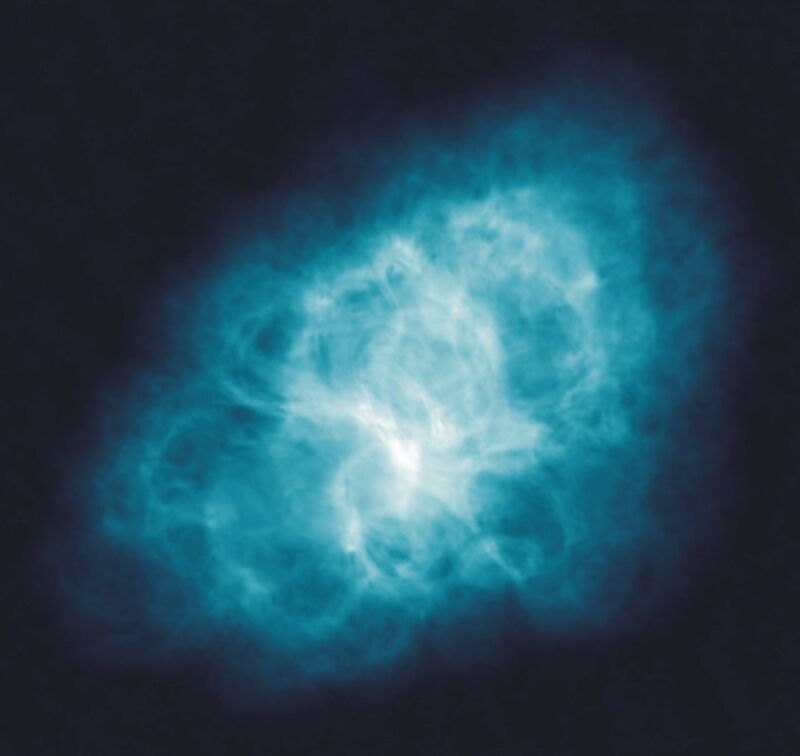 Description
The Crab Nebula, located in the constellation of Taurus, is the remnant of a supernova in 1054 AD, observed as a "guest star" by ancient Chinese astronomers. The nebula is roughly 10 light-years across, and it is at a distance of about 6,000 light years from earth. It is presently expanding at about 1000 km per second. The supernova explosion left behind a rapidly spinning neutron star, or a pulsar (not discernible in this image). The present remnant is formed from both the material originally thrown off by the star in the supernova explosion, and from a highly energetic wind from the pulsar. It is this wind which energises the nebula, and causes it to emit the radio waves which formed this image. Near the centre, plasma waves move outward from the pulsar at speeds up to half the speed of light.
11 hours of VLA observations in B array, also using earlier observations in C and D arrays. VTESS deconvolution.
Creator
Legacy Astronomical Images
Rights
NRAO/AUI/NSF does not hold full copyright for this image. Contact the archivist for details.
Type
Legacy Astronomical Image
Photo Credit
M. Bietenholz
Investigators
M. Bietenholz
Telescope
Very Large Array (VLA)
Observation Date
2001-03-12
Type of Observation
continuum
Center of Image
RA 5:31:31.000, Dec: 21:58:54.000 (B1950)
Field of View
0.116667 x 0.116667 degrees
Link to journal article
Notes
Contact the archivist for a high resolution tif of this image.
Series
Galactic Sources Series
Unit
Supernova Remnants Unit
Citation
Legacy Astronomical Images, "Radio Image of the Crab Nebula,"
NRAO Archives
, accessed December 3, 2021,
https://www.nrao.edu/archives/items/show/33521
.