Cassiopeia A at Dusk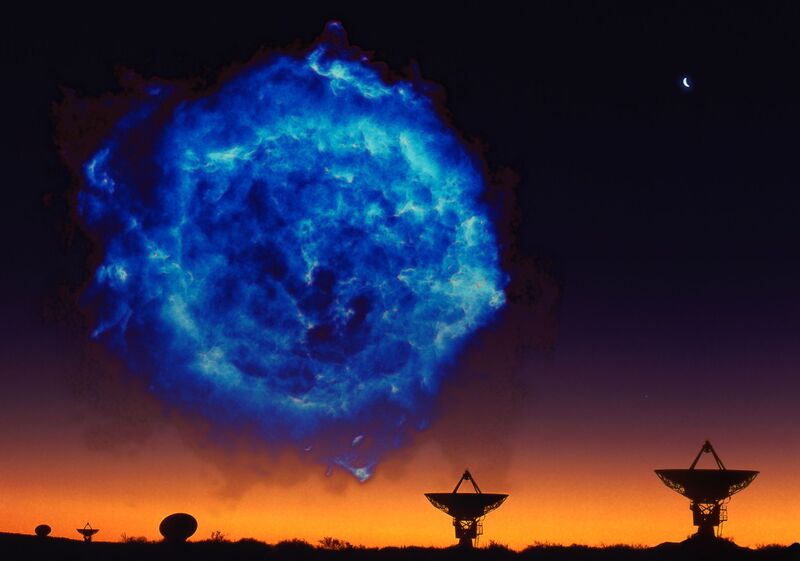 Description
A radio image of Cassiopeia A, which is a young supernova remnant nearby in our Galaxy, composited with a photograph of the NRAO Very Large Array telescope at dusk. Cassiopeia A is the brightest radio source in the sky except the Sun. It is about 10 light years across and about 10,000 light years away. It is the remnant of a supernova explosion that occurred approximately 300 years ago.
The VLA image of Cassiopeia A is courtesy of NRAO and R. Perley, and was made at a frequency of 1.38 GHz using the NRAO Very Large Array. The resolution is 1.3". The brightness scale runs from deep brown through blue to white. In addition, areas where the brightness gradients are steep are highlighted faintly in red. The original radio data was taken from the NRAO CD-ROM: "Images of the Radio Universe", 1992.
Creator
Legacy Astronomical Images
Rights
NRAO/AUI/NSF does not hold full copyright for this image. Contact the archivist for details.
Type
Legacy Astronomical Image
Photo Credit
Michael Bietenholz, York University
Data courtesy of NRAO and R. Perley
Investigators
M. Anderson, L. Rudnick, P. Leppik, R. Perley, R. Braun
Telescope
Very Large Array (VLA)
Observation Date
1987-07-30
Type of Observation
continuum
Center of Image
RA 23:23:24.000, Dec: 58:48:54.000 (J2000)
Field of View
0.108333 x 0.108333 degrees
Link to journal article
Notes
Contact the archivist for a high resolution tif of this image.
Series
Galactic Sources Series
Unit
Supernova Remnants Unit
Citation
Legacy Astronomical Images, "Cassiopeia A at Dusk,"
NRAO Archives
, accessed December 3, 2021,
https://www.nrao.edu/archives/items/show/33523
.