Supernova 1993J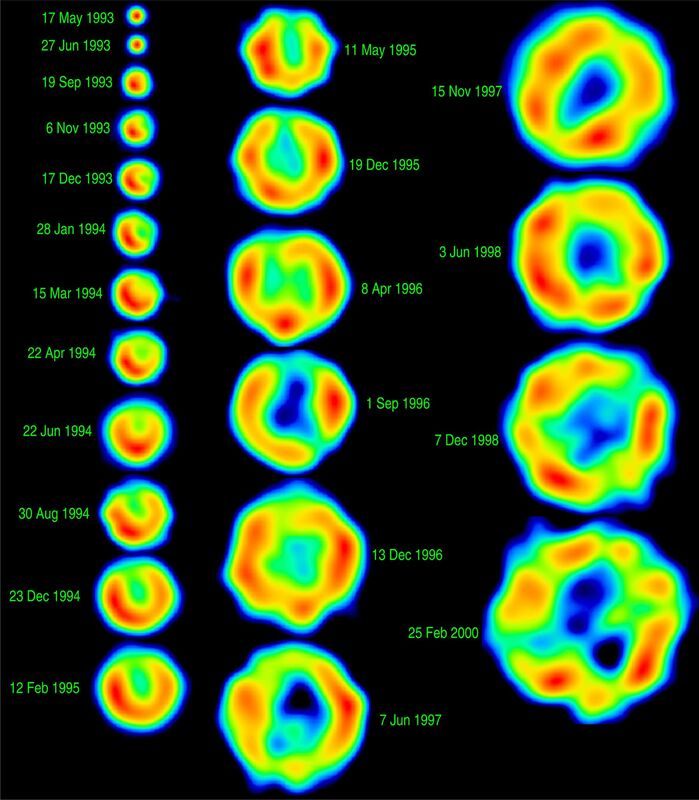 Description
SN 1993J was discovered March 28, 1993, by Francisco Garcia Diaz, an amateur astronomer in Lugo, Spain, using a 10-inch Newtonian telescope. Located in M81, a spiral galaxy in the constellation Ursa Major, the distance of this supernova from Earth is estimated to be 11 million light-years. Its proximity and its radio brightness have offered a unique opportunity for very long baseline interferometry studies. Using radio antennas in the Very Long Baseline Array, the Very large Array, and various tracking stations around the world, astronomers have been able to study the structure of the supernova in detail. By observing at regular intervals, they have produced this sequence of images showing a shell-like radio structure that has expanded for seven years with circular symmetry. At first the expansion rate was nearly 10,000 miles per second, but it has decelerated since, and had slowed to less than 6,000 miles per second by February, 2000. The color scale represents the brightness of the radio emission, with blue being faintest and red brightest.
Observations made using a global array with 11 to 18 telescopes, 12-18 hrs per session. All sessions phase-referenced to the nuclear radio source of M81
Creator
Legacy Astronomical Images
Rights
NRAO/AUI/NSF does not hold full copyright for this image. Contact the archivist for details.
Type
Legacy Astronomical Image
Photo Credit
N. Bartel, M. Bietenholz, M. Rupen, et al.
Investigators
N. Bartel, M. F. Bietenholz, M. P. Rupen
Telescope
Very Long Baseline Array (VLBA)
Green Bank Telescope (GBT)
Algonquin
EVN
DSN
Observation Date
2000-02-25
Type of Observation
continuum
Center of Image
RA 9:55:24.775, Dec: 69:1:13.703 (J2000)
Field of View
0.000003 x 0.000003 degrees
Notes
Contact the archivist for a high resolution tif of this image.
Series
Galactic Sources Series
Citation
Legacy Astronomical Images, "Supernova 1993J,"
NRAO Archives
, accessed August 12, 2022,
https://www.nrao.edu/archives/items/show/33526
.