Virgo Cluster of Galaxies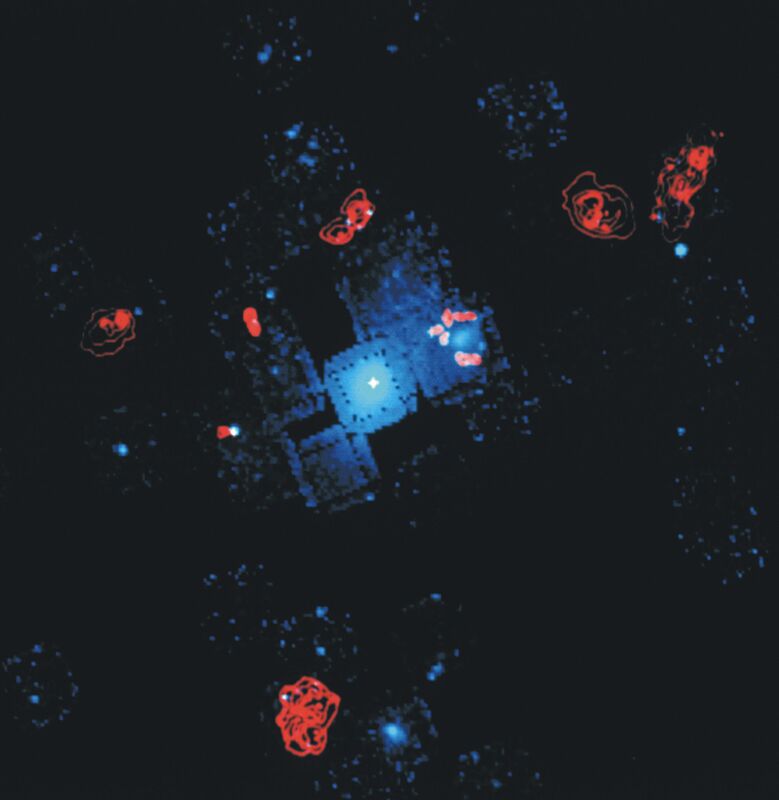 Description
A composite of X-ray (blue) emission from the core of the Virgo Cluster as observed with the IPC of the Einstein Observatory and total hydrogen maps of the 10 brightest spirals as observed with the VLA in its most compact D-array configuration (red contours). The X-ray image is a mosaic of many individual non-overlapping observations with a square imaging camera, which leads to the irregular appearence in the image. The angular scale of the individual total HI maps has been magnified with a factor of 11. The anticorrelation between the X-ray emission and neutral hydrogen makes it likely that the HI-deficient spirals have been stripped by the hot X-ray halo of M87, a bright elliptical near the center of the cluster and a bright X-ray source, corresponding to the bright source at the center of the image.
The VLA was in the D-array configuration.
Creator
Legacy Astronomical Images
Rights
NRAO/AUI/NSF does not hold full copyright for this image. Contact the archivist for details.
Type
Legacy Astronomical Image
Object Name
Virgo Cluster
Investigators
C. Jones, W.R. Forman, J.H. van Gorkom, C. Balkowski, C.G. Kotanyi
Telescope
Very Large Array (VLA)
Einstein
Observation Date
1982-12-00
Type of Observation
spectral line
Center of Image
RA 12:26:32.080, Dec: 12:43:23.900
Field of View
10.000000 x 10.000000 degrees
Link to journal article
Notes
Contact the archivist for a high resolution tif of this image.
Citation
Legacy Astronomical Images, "Virgo Cluster of Galaxies,"
NRAO Archives
, accessed December 3, 2021,
https://www.nrao.edu/archives/items/show/33531
.