Dwarf Galaxies NGC 2537 and IC 2233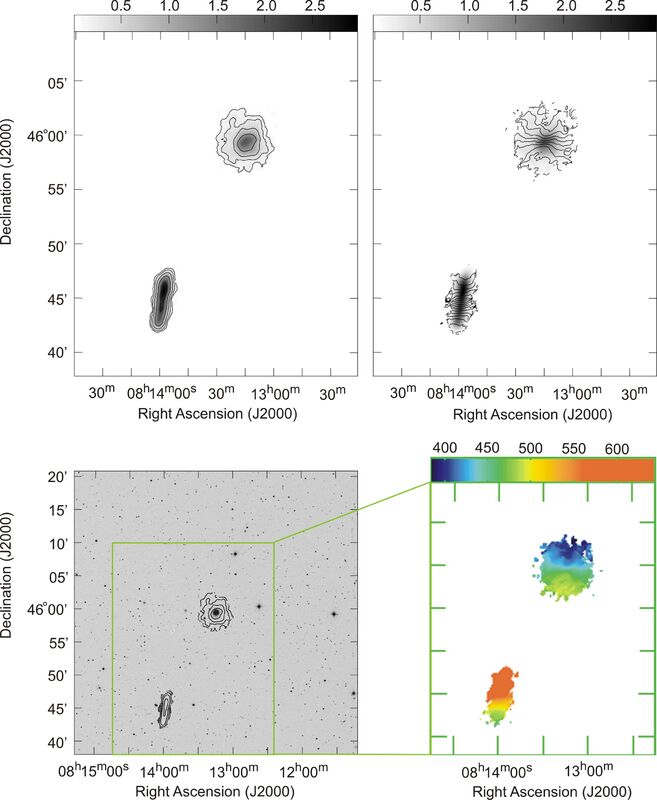 Description
A collection of radio and optical images of NGC 2537 and its companion to the south, IC 2233. NGC 2537 is also known as the peculiar galaxy Arp 6 or, because of its distinctive optical appearance, as the "Bear Claw". Clockwise (from the upper left panel) are the distribution of total atomic hydrogen (HI) shown as both contours and greyscales; the velocity distribution of the HI contoured upon the total HI map; color-coded HI velocity field (red indicates gas which is moving away from us, blue gas that is moving towards us); and the total HI map contoured upon an optical image from the Digital Sky Survey.
Contour levels on the total HI maps are 0.15, 0.3, 0.6, 1.2, and 2.4 x 10<sup>20</sup> cm<sup>-2</sup>. The gray scales in the first two panels are in units of 10<sup>20</sup> cm<sup>-2</sup>.
Creator
Legacy Astronomical Images
Rights
NRAO/AUI/NSF does not hold full copyright for this image. Contact the archivist for details.
Type
Legacy Astronomical Image
Investigators
E. M. Wilcots, M. K. Prescott
Telescope
Very Large Array (VLA)
DSS
Observation Date
2002-00-00
Type of Observation
spectral line
Center of Image
RA 8:13:14.630, Dec: 45:59:29.600 (J2000)
Field of View
0.500000 x 0.500000 degrees
Notes
Contact the archivist for a high resolution tif of this image.
Citation
Legacy Astronomical Images, "Dwarf Galaxies NGC 2537 and IC 2233,"
NRAO Archives
, accessed December 3, 2021,
https://www.nrao.edu/archives/items/show/33536
.