Atomic Gas in the Shell Galaxy NGC 2865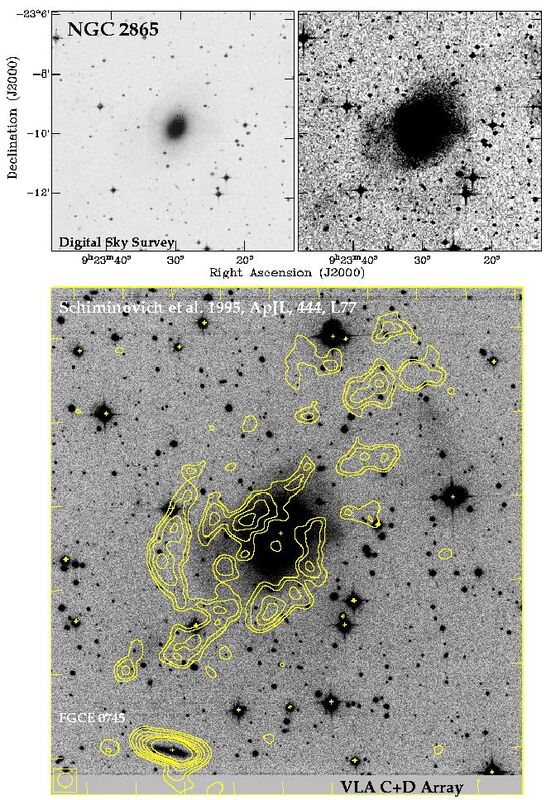 Description
VLA atomic hydrogen observations of the shell galaxy NGC 2865. The gas is shown as yellow contours on an optical image from the Digital Sky Survey. The main body of the NGC 2865 is typical of early type galaxies, but at fainter light levels the galaxy exhibits a peculiar morphology, with many shells, ripples and loops. The VLA spectral line observations shows gas within the main body of the elliptical, but also distributed in an extended ring around it.
Radio data are VLA B and C-array observations at 20" resolution. HI contours start at a level of 3x10<sup>19</sup> atoms cm<sup>-2</sup>, with successive contours a factor of two higher.
Creator
Legacy Astronomical Images
Rights
NRAO/AUI/NSF does not hold full copyright for this image. Contact the archivist for details.
Type
Legacy Astronomical Image
Photographer
Composite image by J. Hibbard
Investigators
D. Schiminovich, J. van Gorkom, J. H., J. van der Hulst, D. Malin
Telescope
Very Large Array (VLA)
Observation Date
1993-10-11
Type of Observation
spectral line
Center of Image
RA 9:23:36.600, Dec: -23:10:20.000 (J2000)
Field of View
0.166667 x 0.200000 degrees
Link to journal article
Citation
Legacy Astronomical Images, "Atomic Gas in the Shell Galaxy NGC 2865,"
NRAO Archives
, accessed December 7, 2021,
https://www.nrao.edu/archives/items/show/33541
.