Atomic Gas in the NGC 5018 Group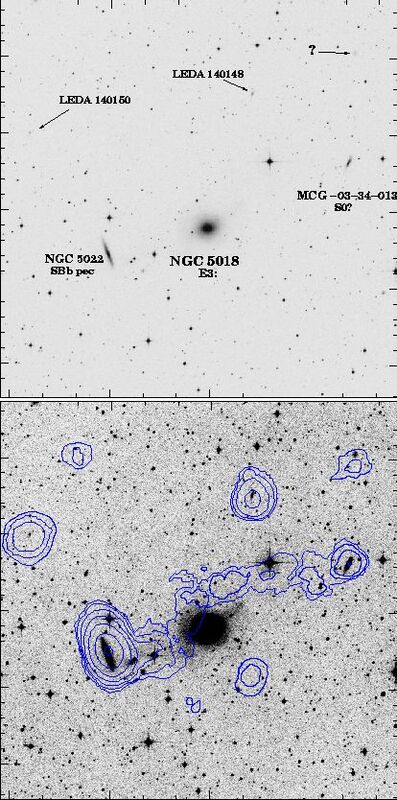 Description
VLA atomic hydrogen observations of the NGC 5018 group. The upper panel is the optical image from the Digital Sky Survey, while the lower panel shows the same optical image to fainter light levels, with contours indicating the distribution of the cold atomic gas. NGC 5018 is classified as a normal E3 elliptical galaxy, but at fainter light levels the galaxy exhibits a peculiar morphology, with many shells, ripples and loops. The VLA spectral line observations shows gas associated with a number of spiral galaxies in the group, and a few clouds which are not apparently associated with any optically identified system. Most interestingly, there is an extended gas "bridge" of material connecting two spirals on either side of NGC 5018, and the gaseous bridge appears to bend to avoid the elliptical.
Radio data are VLA D-array observations at 60" resolution. HI contours start at a level of 3x10<sup>19</sup> atoms cm<sup>-2</sup>, with successive contours a factor of two higher.
Creator
Legacy Astronomical Images
Rights
NRAO/AUI/NSF does not hold full copyright for this image. Contact the archivist for details.
Type
Legacy Astronomical Image
Photographer
Composite image by J. Hibbard
Investigators
P. Guhathakurta, J. van Gorkom, G. Knapp, D.W. Kim
Telescope
Very Large Array (VLA)
Observation Date
1987-05-13
Type of Observation
spectral line
Center of Image
RA 13:13:5.500, Dec: -19:28:28.000 (J2000)
Field of View
0.466667 x 0.433333 degrees
Link to journal article
Citation
Legacy Astronomical Images, "Atomic Gas in the NGC 5018 Group,"
NRAO Archives
, accessed December 7, 2021,
https://www.nrao.edu/archives/items/show/33542
.