Atomic Gas in Fornax A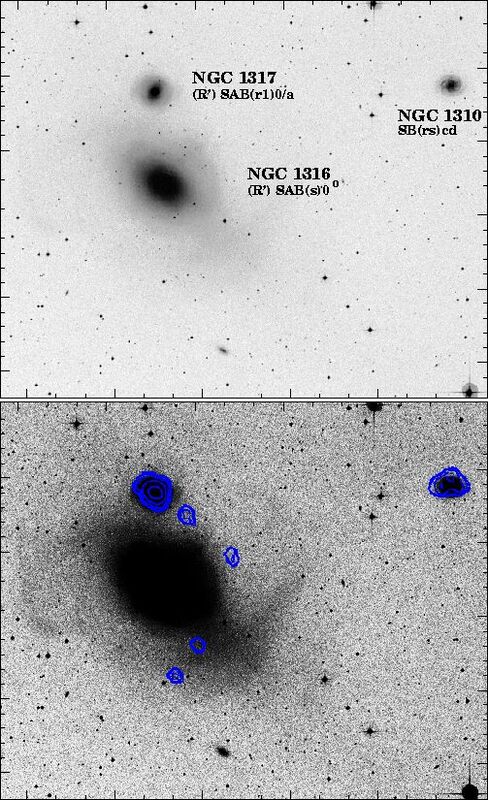 Description
VLA atomic hydrogen of the central dominant galaxy of the Fornax Cluster, Fornax A (a.k.a. NGC 1316). The gas is shown as blue contours on an optical image from the Digital Sky Survey. The main body of the Fornax A is typical of early type galaxies, but at fainter light levels the galaxy exhibits a peculiar morphology, with many shells, ripples and loops. The VLA spectral line observations show gas associated with the galaxy NGC 1317 just to the north, the barred galaxy NGC 1310 to the west, and in several small clounds around the main body of NGC 1316. Its possible that the gas clouds are left over from a merger event which fueled the central radio source.
Radio data are VLA DnC-array observations at 54"x43" resolution. HI contours start at a level of 2x10<sup>19</sup> atoms cm<sup>-2</sup>, with successive contours a factor of two higher.
Creator
Legacy Astronomical Images
Rights
NRAO/AUI/NSF does not hold full copyright for this image. Contact the archivist for details.
Type
Legacy Astronomical Image
Photographer
Image by J. Hibbard
Investigators
C. Horellou, J. Black, J. van Gorkom, F. Combes, J. van der Hulst, V. Charmandaris
Telescope
Very Large Array (VLA)
Observation Date
1985-10-19
Type of Observation
spectral line
Center of Image
RA 3:22:10.300, Dec: -37:12:12.000 (J2000)
Field of View
0.550000 x 0.450000 degrees
Link to journal article
Citation
Legacy Astronomical Images, "Atomic Gas in Fornax A,"
NRAO Archives
, accessed December 7, 2021,
https://www.nrao.edu/archives/items/show/33543
.