Magnetic Field Structure in the Nearby Starburst Galaxy NGC253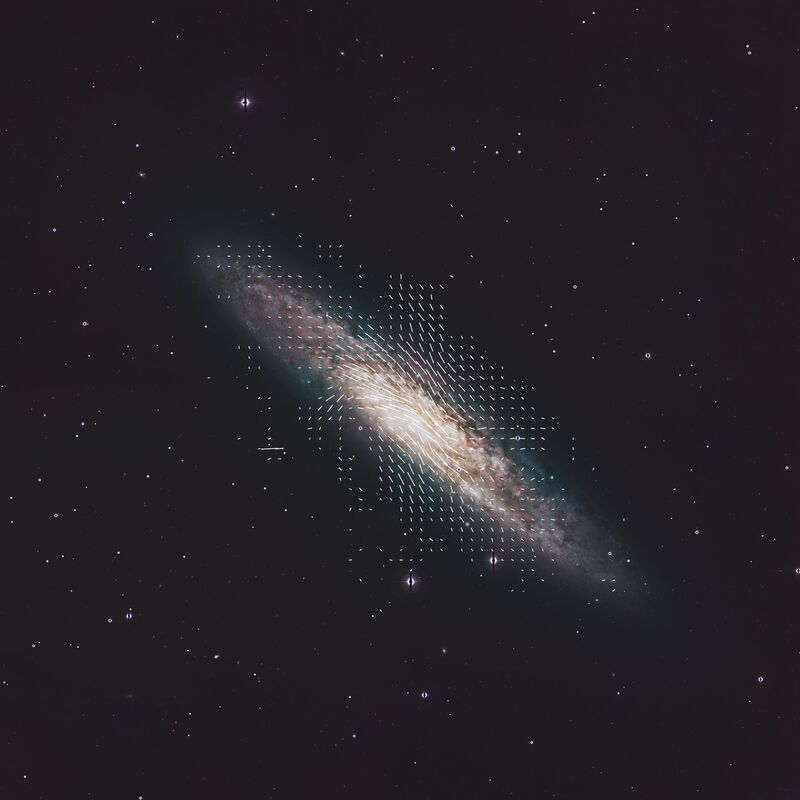 Description
Our best information about magnetic fields in other galaxies is obtained by studying the radio-wavelength synchrotron radiation emitted by cosmic-ray electrons as they move through a galaxy's magnetic field. In this image, radio data from the NRAO Very Large Array and the 100-m Effelsberg telescope are combined with a three-filter, optical wavelength image of the nearby galaxy NGC 253 (the "Silver Coin" galaxy) from the ESO Wide Field Imager. The vectors overlaid on the optical image show the orientation of the magnetic field in NGC 253, as measured by the radio data; the vector length is proportional to the polarized emission. Note that the magnetic field is detected not only in the galaxy's disk but also above and below, demonstrating the presence of a "radio halo." This may be caused by an outflow of gas from the disk into the halo.
Creator
Legacy Astronomical Images
Rights
NRAO/AUI/NSF does not hold full copyright for this image. Contact the archivist for details.
Type
Legacy Astronomical Image
Investigators
Volker Heesen (AIRUB), Rainer Beck (MPIfR), Marita Krause (MPIfR), Ralf-J?rgen Dettmar (AIRUB)
Telescope
Very Large Array (VLA)
Observation Date
2004-00-00
Type of Observation
continuum
Center of Image
RA 1:47:33.100, Dec: -25:17:18.000
Field of View
1.000000 x 1.000000 degrees
Notes
Contact the archivist for a high resolution tif of this image.
Citation
Legacy Astronomical Images, "Magnetic Field Structure in the Nearby Starburst Galaxy NGC253,"
NRAO Archives
, accessed May 17, 2022,
https://www.nrao.edu/archives/items/show/33568
.