The Galactic Plane in Radio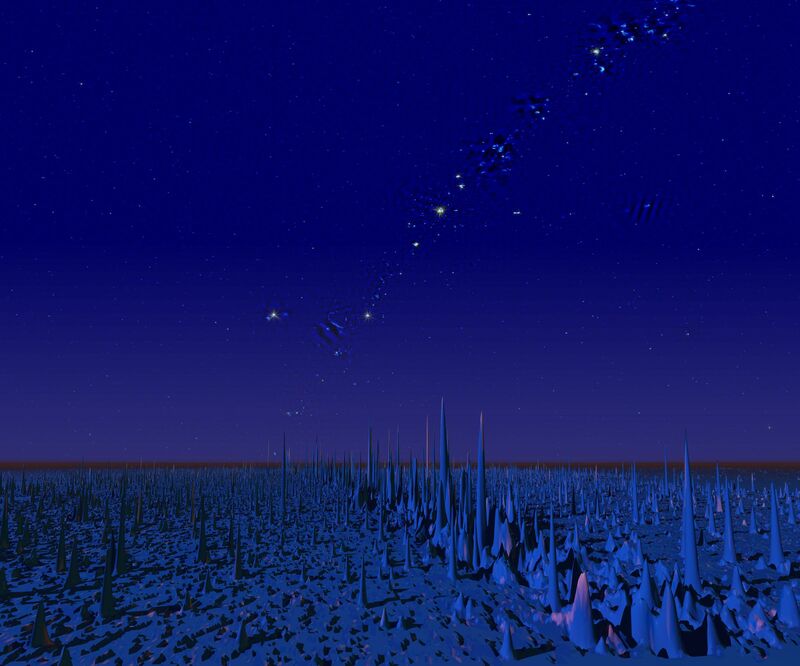 Description
A section of the Galactic plane as seen in the radio is shown both as the sky and also rendered as a height-map on the ground, with the height of the "mountains" representing the brightness of the radio sky. The radio observations were part of a monumental radio survey made of the whole sky north of a declination of -40 degrees with the NRAO Very Large Array telescope. The survey data consists of 2326 images each covering 4 degrees. The field of view in this image is approximately 20 degrees, and the galactic plane is the diagonal band of sources in the sky and "mountains" on the ground.
A mosaic made from 30 NVSS image cubes (for a description of the NVSS survey, see Condon et al, 1998, AJ, 115, 1693) The resolution is 45". About 16 degrees of the Galactic plane is visible. Both the sky and the ground renditions have a quasi-logarithmic brightness transfer function. Pink regions in the ground plane show regions of polarized emission. Prominent sources include the supernova remnants W41, W44, Kes 75, 4C-04.71, 3C397 and many others.
Creator
Legacy Astronomical Images
Rights
NRAO/AUI/NSF does not hold full copyright for this image. Contact the archivist for details.
Type
Legacy Astronomical Image
Photo Credit
Michael Bietenholz
Telescope
Very Large Array (VLA)
Observation Date
1993-10-23
Type of Observation
continuum
Center of Image
RA 18:40:0.000, Dec: -1:0:0.000 (J2000)
Field of View
30.000000 x 20.000000 degrees
Link to journal article
Notes
Contact the archivist for a high resolution tif of this image.
Citation
Legacy Astronomical Images, "The Galactic Plane in Radio,"
NRAO Archives
, accessed May 17, 2022,
https://www.nrao.edu/archives/items/show/33573
.