Atomic Hydrogen in M81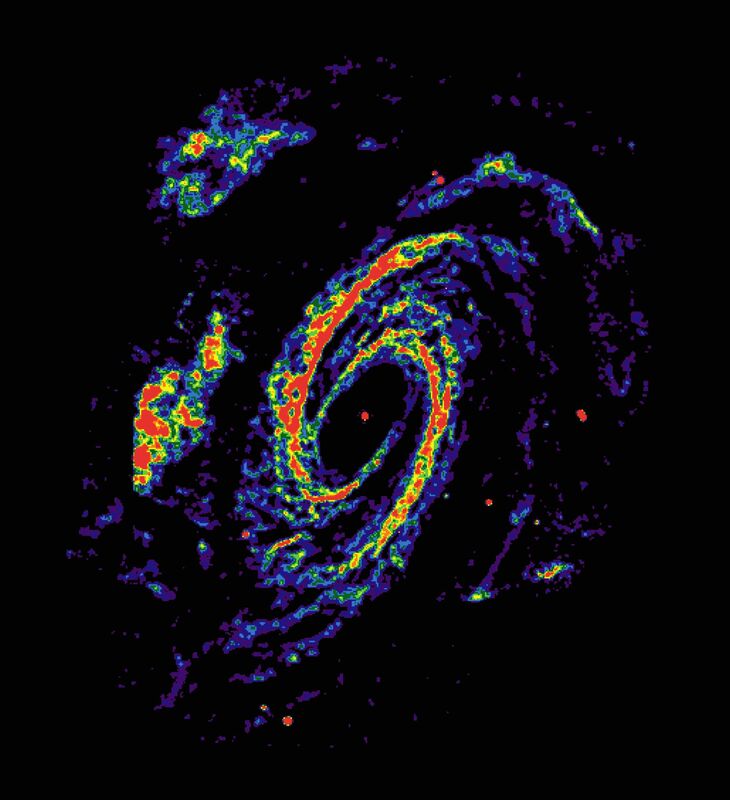 Description
The galaxy M81 is a spiral galaxy about 11 million light-years from Earth. It is about 50,000 light-years across. In the optical (not shown), the galaxy is known as a "Grand Design" spiral, for its pair of symmetric, well-defined spiral arms. This image, which only shows the cold atomic hydrogen gas in the galaxy, clearly shows that the gas also follows this grand design pattern. In this pseudocolor image, red indicates higher gas densities and blue weaker emission.
The observations consist of data taken with the VLA in the B-array, C-array and D-array configurations for a total of more than 60 hours of observing time. Two pointings and two velocity settings were used. The resolution is 12". The continuum sources have not been removed from the map.
Creator
Legacy Astronomical Images
Rights
NRAO/AUI/NSF does not hold full copyright for this image. Contact the archivist for details.
Type
Legacy Astronomical Image
Investigators
D. S. Adler, D. J. Westpfahl
Telescope
Very Large Array (VLA)
Observation Date
1992-08-01
Type of Observation
spectral line
Center of Image
RA 9:55:33.170, Dec: 69:3:55.100
Field of View
0.650000 x 0.650000 degrees
Link to journal article
Notes
Contact the archivist for a high resolution tif of this image.
Citation
Legacy Astronomical Images, "Atomic Hydrogen in M81,"
NRAO Archives
, accessed May 17, 2022,
https://www.nrao.edu/archives/items/show/33574
.