Hydrogen Halo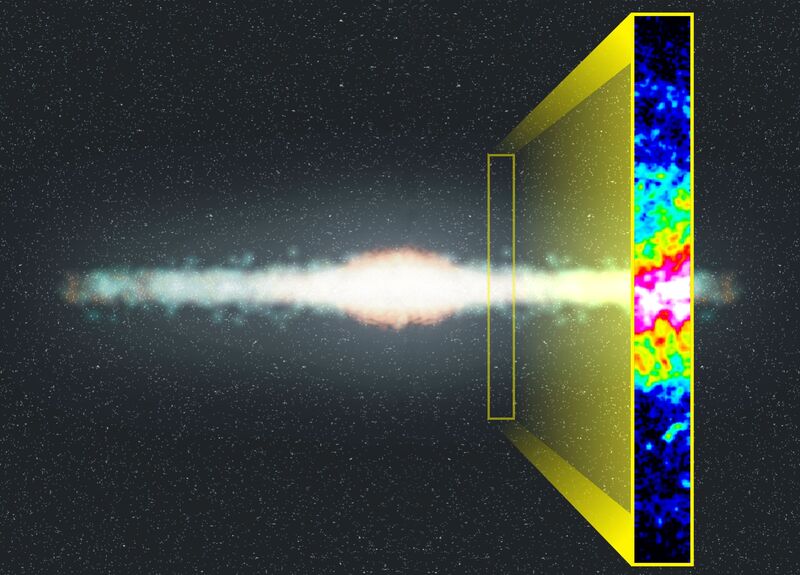 Description
Using the Green Bank Telescope, a cross-section of the Milky Way Galaxy's diffuse halo of hydrogen gas has been produced. This image confirms the presence of discrete hydrogen clouds in the halo, and could help astronomers understand the origin and evoulution of the rarefied atmosphere that surrounds our Galaxy. The hydrogen in the lower halo, the transition zone between the Milky Way and intergalactic space, is very clumpy. This latest data confirm these results and show that instead of trailing away smoothly from the Galactic plane, a significant fraction of the hydrogen gas in the halo is concentrated in discrete clouds. There are even some filaments.
Creator
Legacy Astronomical Images
Rights
NRAO/AUI/NSF does not hold full copyright for this image. Contact the archivist for details.
Type
Legacy Astronomical Image
Photo Credit
Kirk Woellert (NSF) and Patricia Smiley (NRAO)
Telescope
Green Bank Telescope (GBT)
Observation Date
2003-01-07
Type of Observation
spectral line
Center of Image
RA 0:0:0.000, Dec: 0:0:0.000 (J2000)
Notes
Contact the archivist for a high resolution tif of this image.
Citation
Legacy Astronomical Images, "Hydrogen Halo,"
NRAO Archives
, accessed May 17, 2022,
https://www.nrao.edu/archives/items/show/33580
.