Molecular and Atomic Gas in IC 342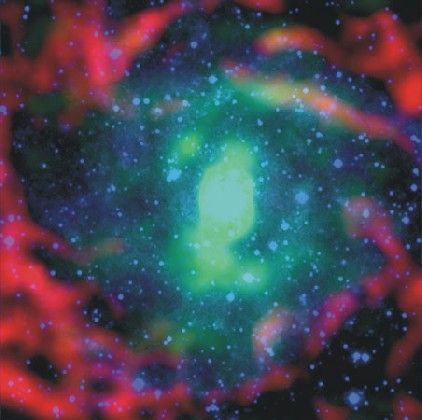 Description
An optical image of the nearby barred spiral galaxy IC 342 (shown in blueish-white) with overlays in red to show the location of its atomic hydrogen, and in green to show the location of its cool molecular gas (traced by emission from the carbon monoxide molecule). The gas in this galaxy is predominantly atomic at large radii and predominantly molecular in the inner regions.
The CO image is from a "on-the-fly" fully sampled CO(1-0) observation with the NRAO 12m telescope. The CO has a resolution of 55" and a column density sensitivity of 3E20 mol/cm**2. The atomic gas is from combined VLA C-array and D-array observations.
Creator
Legacy Astronomical Images
Rights
NRAO/AUI/NSF does not hold full copyright for this image. Contact the archivist for details.
Type
Legacy Astronomical Image
Investigators
L. P. Crosthwaite, J. L. Turner
Telescope
14 Meter Telescope
Observation Date
1995-02-15
Type of Observation
spectral line
Center of Image
RA 3:46:48.900, Dec: 68:5:46.000
Field of View
0.250000 x 0.250000 degrees
Link to journal article
Citation
Legacy Astronomical Images, "Molecular and Atomic Gas in IC 342,"
NRAO/AUI Archives
, accessed June 1, 2023,
https://www.nrao.edu/archives/items/show/33583
.