Dave and the Girls Fly a Kite by the Light of 3C58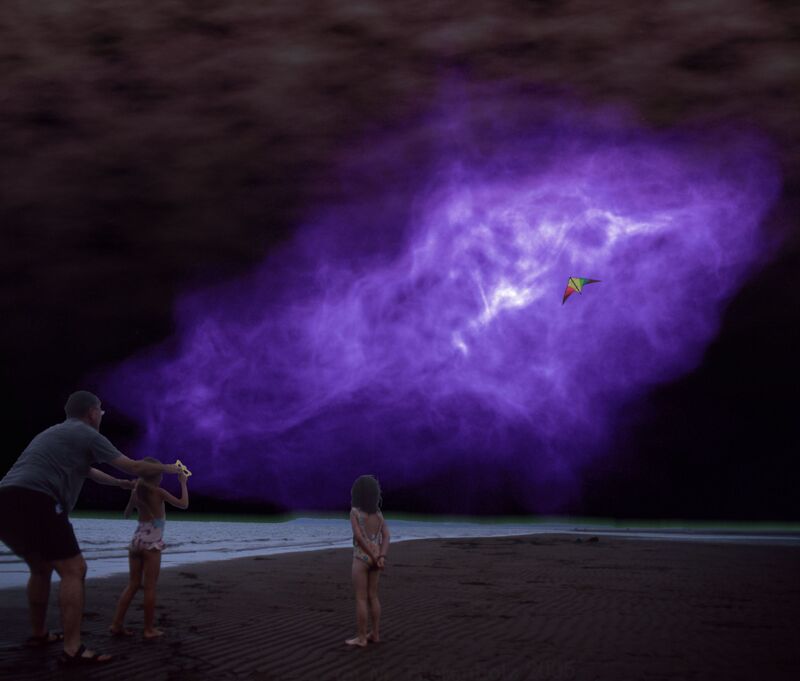 Description
The sky in this collage shows a radio image the supernova remnant 3C58 The radio nebula is energized by a recently discovered pulsar. The beautiful filamentary structure of the nebula is brought out in this recent radio images, which was made using the NRAO Very Large Array telescope.
A new image of 3C58 made using the A, B, and C array configurations, which shows a wealth of new detail in this pulsar-powered supernova remnant.
Creator
Legacy Astronomical Images
Rights
NRAO/AUI/NSF does not hold full copyright for this image. Contact the archivist for details.
Type
Legacy Astronomical Image
Investigators
M. F. Bietenholz
Telescope
Very Large Array (VLA)
Observation Date
2004-04-19
Type of Observation
continuum
Center of Image
RA 2:5:39.000, Dec: 64:49:33.000 (J2000)
Field of View
0.166667 x 0.083333 degrees
Notes
Contact the archivist for a high resolution tif of this image.
Series
Miscellaneous Series
Unit
Image Compositions Unit
Citation
Legacy Astronomical Images, "Dave and the Girls Fly a Kite by the Light of 3C58,"
NRAO Archives
, accessed December 3, 2021,
https://www.nrao.edu/archives/items/show/33600
.