Protoplanetary Disk NGC 2071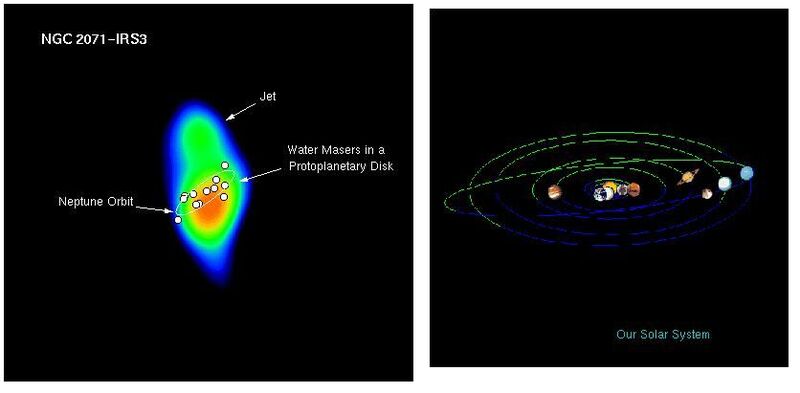 Description
Left: The distribution of water maser spots in a protoplanetary disk. The disk is centered with the radio continuum jet which is emanating from the central star. It is believed that the water masers trace the rotational motion of the protoplanetary disk in this system. Right: On the same spatial scale, the solar system is shown in order to demonstrate the scale of the protoplanetary system detected in this observation.
VLA A-array observations of 1.3 cm continuum and H<sub>2</sub>0 maser emission.
Creator
Legacy Astronomical Images
Rights
NRAO/AUI/NSF does not hold full copyright for this image. Contact the archivist for details.
Type
Legacy Astronomical Image
Investigators
Jose M. Torrelles, Paul Ho, Luis Rodriguez, Jose F. Gomez, Guillem Anglada, Salvador Curiel
Telescope
Very Large Array (VLA)
Observation Date
1996-12-15
Type of Observation
spectral line
Center of Image
RA 5:47:7.260, Dec: 0:17:39.300 (J2000)
Field of View
0.000417 x 0.000250 degrees
Link to journal article
Series
Miscellaneous Series
Unit
Protoplanetary Disks Unit
Citation
Legacy Astronomical Images, "Protoplanetary Disk NGC 2071,"
NRAO Archives
, accessed May 17, 2022,
https://www.nrao.edu/archives/items/show/33603
.