NRAO Electronics, 1968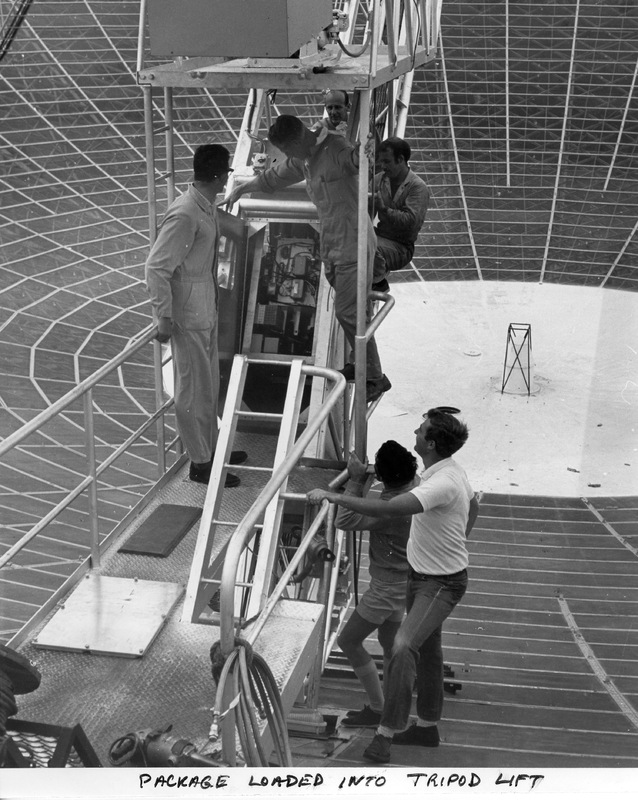 Subject
Description
Throughout its history, NRAO has shipped state-of-the-art electronics for use in observatories around the world. In March 1968 NRAO loaned to CSIRO a 6 cm front-end containing a cooled parametric amplifier, to be used for joint observations on CSIRO's 210-foot radio telescope in Parkes, Australia. The components were assembled and tested on the 140 foot telescope in Green Bank, with Frank Gardner from CSIRO visiting NRAO to learn the system, and Peter Mezger from NRAO visiting CSIRO to work with staff there. The loan necessitated extensive correspondence between Sandy Weinreb at NRAO, John Bolton, Brian Cooper, and Frank Gardner of CSIRO, and, of course, various embassy attachés and customs officials. In this photo, sent by Cooper as one of a set showing the receiver's installation on the 210 foot dish, the package has been loaded into the tripod lift before being raised to the aerial cabin.
Creator
Records of the NRAO
Identifier
nrao-6cm-receiver-at-parkes-may1968.jpg
Location
Photographer
Series
Photographs Series
Unit
Electronics, Computers and Equipment Unit
Citation
Records of the NRAO, "NRAO Electronics, 1968,"
NRAO/AUI Archives
, accessed September 27, 2023,
https://www.nrao.edu/archives/items/show/35223
.