Measuring Water Vapor Between Calama and Ollague, Chile, May 1994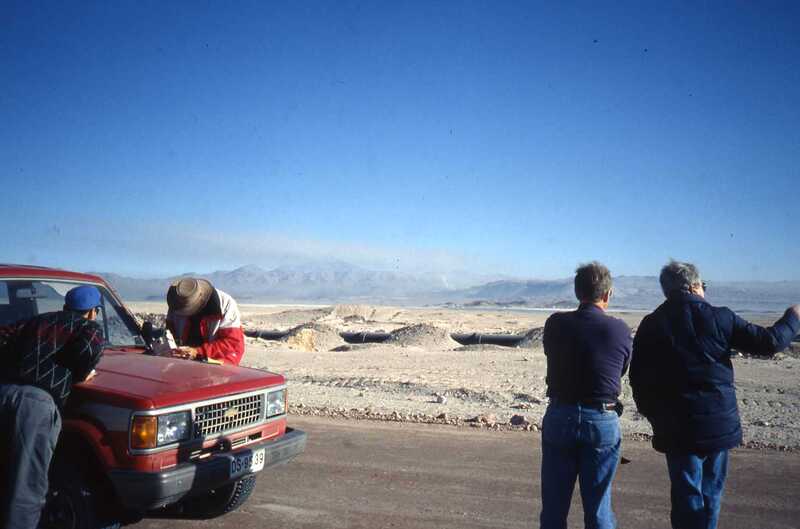 Description
In this photo, taken by Riccardo Gionvanelli on the way from Calama to Ollague during a May 1994 trip to Chile to scout potential MMA sites, Angel Otarola (left) watches as Bob Brown (red and white jacket) uses a Sun radiometer to measure precipitable water vapor, while Paul Vanden Bout (navy shirt) and Hernan Quintana (navy jacket) survey the surroundings. The pipeline carries water from the mountains to Calama and then to Antofagasta. In the distance between the mountains there is a plume indicating industrial activity, probably from the Chuquicamata/Calama area, so the group is north from there along Route 21. Angel notes that the photo was taken on the way to Ollague, because "on the way back the radiometer got damaged crashing in the roof of the truck due to a bump in the road." Paul says, "The wretched meter, borrowed from Tucson, was not up to the rigors of our adventure. We tried changing the batteries with no effect. Gave it a few whacks and it died altogether." Thanks to Riccardo Giovanelli for the photo and to Angel Otarola and Paul Vanden Bout for caption information.
Creator
Records of the NRAO
Identifier
RG-May1994-045.jpg
People
Location
Photographer
Photo Credit
Riccardo Giovanelli
Series
Photographs Series
Subunit
MMA Chile Site Subunit
Citation
Records of the NRAO, "Measuring Water Vapor Between Calama and Ollague, Chile, May 1994,"
NRAO/AUI Archives
, accessed December 3, 2023,
https://www.nrao.edu/archives/items/show/38543
.