September 22, 2011
Contact:

Dave Finley, Public Information Officer
Socorro, NM
(575) 835-7302
dfinley@nrao.edu


NRAO Astronomer, Wife Become U.S. Citizens at VLA Ceremony
A Socorro astronomer and his wife were sworn in as new U.S. Citizens in a ceremony at the National Radio Astronomy Observatory's Very Large Array (VLA) radio telescope Wednesday. Dr. Emmanuel Momjian and his wife, Mari Jananian, took the oath of allegiance at a special event conducted by Peter Rechkemmer of the U.S. Citizenship and Immigration Services (USCIS), with the oath administered by Patti JMK Reynolds, Albuquerque Field Office Director of the USCIS.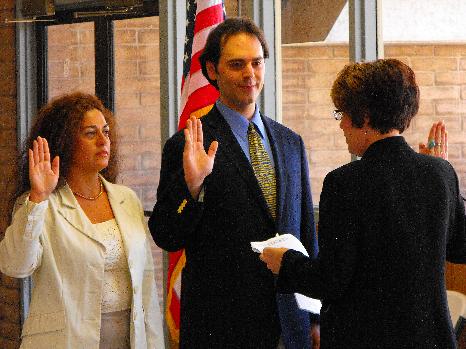 Mari Jananian and Emmanuel Momjian take oath of U.S. Citizenship,
administered by USCIS Field Office Director Patti JMK Reynolds.

CREDIT: Dave Finley, NRAO/AUI/NSF
Momjian, visibly moved and clutching his certificate of citizenship, told the audience that he and Jananian were proud to declare their allegiance to the U.S. and happy because, "for the first time in our lives we are free human beings."
Socorro City Councilor Peter Romero presented the couple with a large American flag, "for you to proudly fly from your house."
For both of the new Americans, Reynolds noted, the ceremony marked the end of "a very long journey," and the culmination of dreams. Momjian and Jananian both were born in Syria, and are descendants of Armenian refugees who survived the genocide of Armenians during World War I. Momjian's grandfather fled to Syria as a teenager, as did Jananian's grandfather.
The VLA was the perfect location for the naturalization ceremony, because astronomy is what brought Momjian to the U.S. Dale Frail, NRAO's Assistant Director for New Mexico Operations, pointed out that the VLA is "the best telescope in the world" for many types of science, and draws scientists from around the world.
Momjian's passion for studying the Universe came at an early age, and he recalled that his 8th-grade geography teacher gave him the title "astronomer" as a nickname.
Based on admission tests in high school, he entered the University of Aleppo in Aleppo, Syria, majoring in physics and chemistry. His desire to become an astronomer and the lack of opportunities in that field in Syria made the U.S. an "obvious choice" for graduate school. However, opportunities for foreign graduate study were extremely limited for Syrian students. He learned of a program that would permit him to travel abroad for graduate study, but it required that he graduate first in his class at college.
He graduated -- first in his class -- from Aleppo, and was honored with a Syrian presidential award for superior graduates. He then began his quest for a graduate degree in astronomy. The Syrian university used a completely different grading system from that used in U.S. universities, making it difficult for American graduate schools to evaluate his qualifications. In frustration, he decided to get on the telephone and speak directly to the director of graduate studies at the University of Kentucky, one of the schools to which he had applied.
After a few minutes of conversation, the university official said he would "take a chance" and admit Momjian, but without providing any financial support. That, he said, would come if Momjian completed his first term with all "A" grades. Ecstatic, Momjian began the planning and paperwork ordeal needed to travel to the U.S. and begin his studies.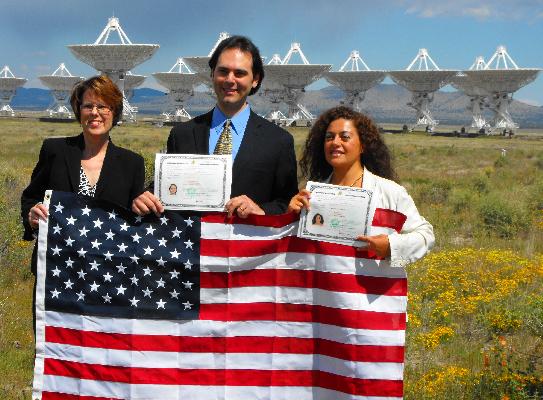 Emmanuel Momjian and Mari Jananian display their citizenship certificates
and a U.S. flag presented by Socorro City Councilor Peter Romero.
They are joined by USCIS Field Office Director Patti JMK Reynolds (left).

CREDIT: Dave Finley, NRAO/AUI/NSF
His family, at considerable sacrifice and with difficulties associated with currency restrictions, gathered the funds necessary to help finance his first semester's tuition, and he planned to get campus work to supplement his income. Upon arriving at Kentucky in 1998, he was suddenly surprised by an offer of a teaching assistantship by one of the astronomy professors, Tom Troland. That job relieved his financial worries and cleared the way for the rest of graduate school.
In December of 1998, Jananian came to the U.S. and the couple were married. Jananian was an accountant and assistant to the principal of a private Armenian school in Aleppo. She also was a longtime volunteer for groups serving children and youth.
Momjian completed not just his first term, but his entire tenure at graduate school, with a perfect, all-A, record. His introduction to radio astronomy came when he spent a month at NRAO in 1999. That was followed by a pre-doctoral fellowship at the observatory from 2000-2003. After receiving his Ph.D from Kentucky in 2003, he received a postdoctoral fellowship at Arecibo Observatory in Puerto Rico, and later joined the permanent staff of that observatory, which operates the world's largest single-dish radio telescope.
When he left for Arecibo, Troland remarked, "He came from a country where telescopes are not allowed, and now he's working at the largest telescope in the world."
Momjian left Arecibo in 2007 to join NRAO in Socorro, where he works on the scientific commissioning of the Expanded VLA, a dramatic technical transformation of the famous VLA that is improving the telescope's capabilities by factors of up to 8,000. He also assists other astronomers in using the facility and pursues his own research on a variety of objects, including star-forming regions in our own Milky Way Galaxy and distant galaxies and quasars.
The National Radio Astronomy Observatory is a facility of the National Science Foundation, operated under cooperative agreement by Associated Universities, Inc.