A Common Origin for Cosmic Explosions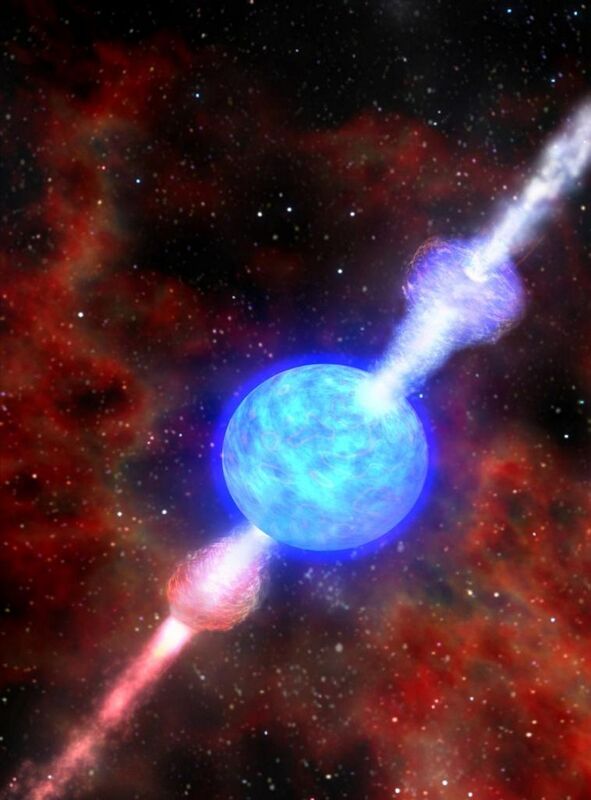 Description
Artist's conception of the nearby gamma-ray burst of 29 March 2003 localized by NASA's HETE-2 satellite. Radio observations made with the Very Large Array, as well as the Australia Telescope Compact Array and the Ryle Telescope, have been combined with optical and X-ray data to show that this cosmic explosion had a nested jet structure (shown in the figure). The thin core of the jet produced weak gamma-rays while the thicker envelope produced copious radio waves. This information reveals that different types of cosmic explosions (gamma-ray bursts, X-ray flashes, and some type of supernovae) have the same amount of total energy and therefore share a common origin. In effect, different cosmic explosions are "beasts with different faces but the same body".
Creator
Legacy Astronomical Images
Rights
NRAO/AUI/NSF does not hold full copyright for this image. Contact the archivist for details.
Type
Legacy Astronomical Image
Investigators
Edo Berger, et al.
Telescope
Very Large Array (VLA)
ATCA
Ryle
OVRO
IRAM
BIMA
Observation Date
2003-06-04
Type of Observation
continuum
Center of Image
RA 10:44:50.000, Dec: 21:31:17.800 (J2000)
Field of View
0.083333 x 0.083333 degrees
Notes
Contact the archivist for a high resolution tif of this image.
Series
Miscellaneous Series
Unit
Gamma-ray Bursters Unit
Citation
Legacy Astronomical Images, "A Common Origin for Cosmic Explosions,"
NRAO Archives
, accessed December 3, 2021,
https://www.nrao.edu/archives/items/show/33595
.