Scientists Hiking in West Virginia, Summer 1965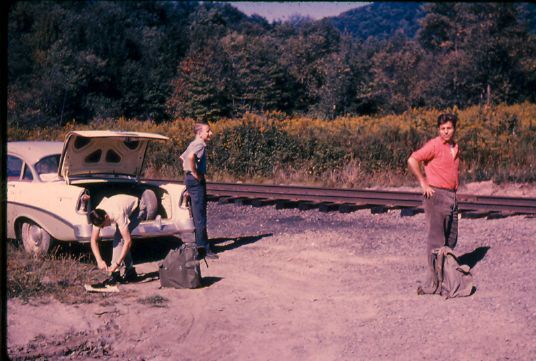 Subject
Description
On 9 July 1965 Peter Mezger and Bertil Höglund detected radio recombination lines using the 140 foot telescope. This photo from Jaap Baars shows Peter Mezger in red shirt, Bertil Höglund tying his shoes and Jaap Baars leaning against Peter's Chevy.
Jaap says, "The picture was made in the summer of 1965 at the start of a hike from Durbin to the Cheat River Falls. I have always connected this picture with 'two tired scientists relaxing after their unambiguous detection of the hydrogen recombination line H109alpha with the new 140-ft telescope.'"
Commenting on his own presence in the photo, Baars said, "As to the third 'tired scientist,' I was not involved in the recombination line work at all. So I assume that I was not tired."
Thanks to Jaap Baars for the photo and caption information. Mezger's description of the discovery (no mention of the hike) may be read on page 5 of
The Observer, v.10 #3, May 1970.
Creator
Records of the NRAO
Identifier
Peter-Bertil.jpg
Location
Notes
High resolution .tiff of this image is available from the Archives.
Series
Photographs Series
Citation
Records of the NRAO, "Scientists Hiking in West Virginia, Summer 1965,"
NRAO Archives
, accessed March 29, 2023,
https://www.nrao.edu/archives/items/show/37034
.