Charlottesville Employee Group, 1988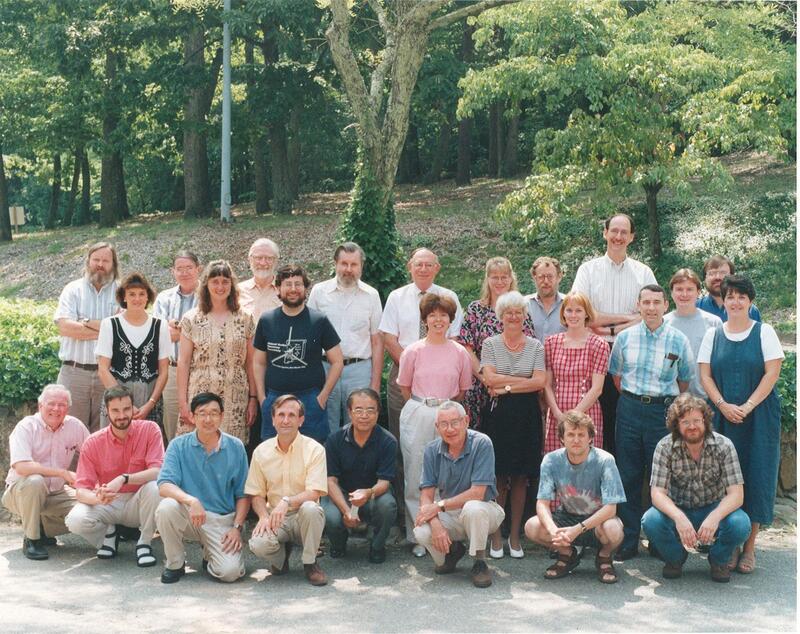 Subject
Description
This photograph is a mystery - it was taken in Charlottesville in late spring or early summer 1998, but none of the people in the photo have any recollection of what the occasion/event was! Everyone pictured was at Edgemont Rd., and they represent computing, HR, business, scientific staff, post-docs, pre-docs, library, and Director's Office. Back row, left to right: Bill Cotton, Dave Hogg, Alan Bridle, Barry Turner, Monroe Petty, Tess Schlemmer, Harvey Liszt, Richard Simon, Darrel Schiebel, Bob Garwood. Middle row, left to right: Sheila Marks, Jennifer Wiseman, Eric Schulman, Mary Jo Hendricks, Gail Dodson, Billie Jo Mattox, David Brown, Amy Shepherd. Front row, left to right: Don Wells, Mark Swain, Lee King, Jim Condon, Qifeng Yin, Mort Roberts, Jeff Uphoff, Pat Murphy.
Creator
Records of the NRAO
Identifier
CV_group-july1998.jpg
People
Location
Series
Photographs Series
Citation
Records of the NRAO, "Charlottesville Employee Group, 1988,"
NRAO Archives
, accessed March 29, 2023,
https://www.nrao.edu/archives/items/show/35228
.